Como en todas las disciplinas y trabajos, hay cierta terminología en marketing y publicidad que para aquellos que la manejamos diariamente es muy clara. Sin embargo, para aquellos ajenos a este mundo, hay cosas indescifrables. Específicamente en publicidad, muchos términos son anglicismos que, aunque tienen traducción, la costumbre nos lleva a decirlos en inglés. Entre ellos, están las siglas ATL y BTL: Above The Line y Below The Line, respectivamente.
Ambos hablan de activaciones publicitarias y su objetivo es el mismo: promocionar productos o servicios. Sin embargo, una es particularmente buena para llegar a un público masivo, mientras que la otra se especializa en llegar a un público segmentado. Estas características hacen que parezcan opuestos, aunque en realidad pueden ser complementarios. 
Si has escuchado sobre ellos y aún no te queda muy claro de qué hablamos cuando los mencionamos, te lo explicamos a continuación.
Lee: ¿Cómo saber el nivel socioeconómico de tu cliente y segmentar a tu mercado?
¿Qué es ATL y BTL?
ATL (Above the Line)
Son las acciones publicitarias con alcance masivo. Su intención es lanzar el mensaje para que llegue a la mayor cantidad de gente posible. La segmentación no va más allá de sectores de edad, por lo que se ancla a los medios tradicionales: TV, radio, prensa impresa. 
¿En qué casos es útil? Campañas de interés social como la de vacunación contra la influenza, así como en productos y servicios básicos (comida, artículos de primera necesidad). 
BTL (Below the Line)
Se enfocan en un público objetivo particular, es decir, la segmentación entra en juego. Su intención es ser directa y memorable, entonces utiliza los llamados medios alternativos como son: redes sociales, activaciones, publicidad en punto de venta y product placement.
¿En qué casos es útil? Cuando se tiene un target muy específico, se tiene un presupuesto limitado, o cuando se trabaja con un producto o servicio de innovación.
Ambos usan "The Line", como referencia a la línea de promoción, aunque actualmente ya no son exclusivos. El tipo de campañas que se hacen en medios tradicionales, también se pueden realizar en medios digitales y viceversa. Por supuesto, personalizando cada una. 
Por otro lado, si hablamos del camino del consumidor en cada uno de estos tipos de publicidad, podemos ver que son esfuerzos que son realmente complementarios. Todo esfuerzo ATL está en el primer paso del embudo, mientras que los esfuerzos BTL están más enfocados a la conversión y la lealtad.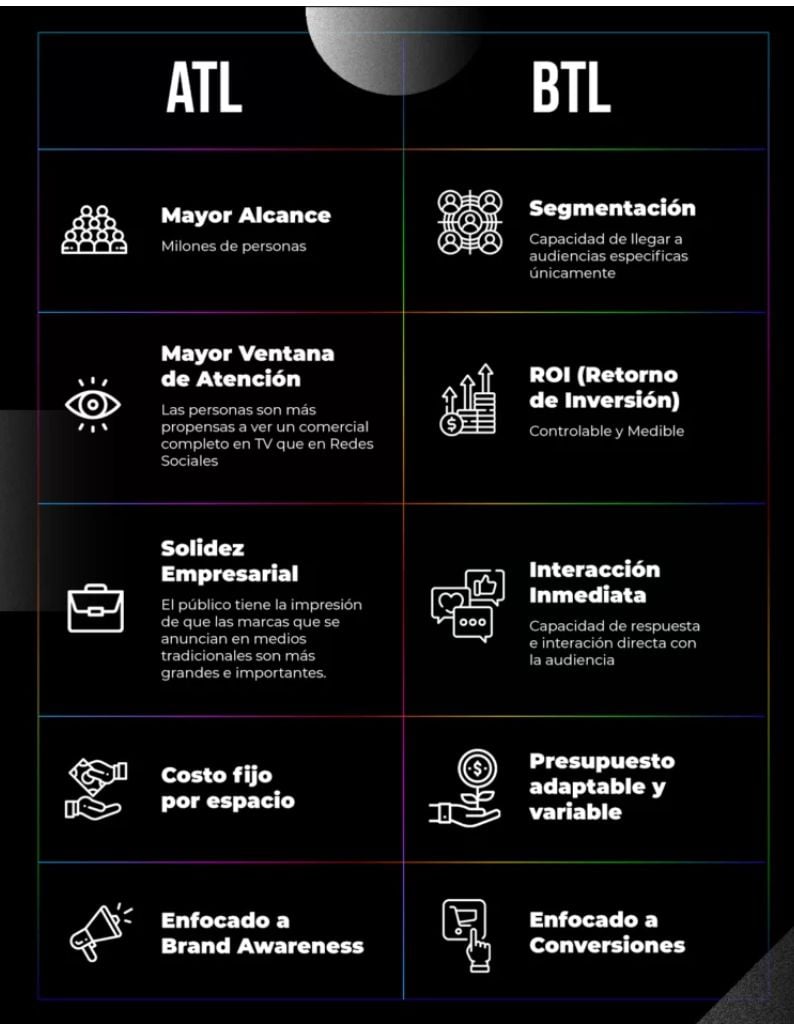 ¿Tienes dudas de cuáles son los mejores canales para tu empresa? Nosotros con gusto te ayudamos a considerar las opciones y generar la estrategia ideal para ti. Contáctanos.